Description
Ho'e Ana'e Tatou – We are one project - A world tour through Polynesian eyes to relink human with nature
"We are one project" is the world tour that two young Polynesians, environmental activists, are about to start in order to share a message of unity between nature and humanity to address climate change: Hō'ē ana'e tātou - We are one.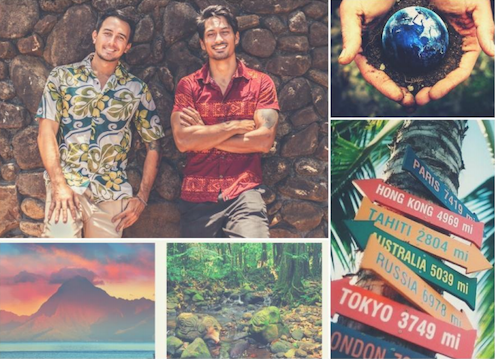 Moana Van der Maesen (Nana Sac Plastique local collective) and Hiroana Putoa, (NGO Earth Force Polynesia) will travel around a dozen countries to raise awareness about the imminence of climate change that threatens particularly the Pacific Islands and the future of life on earth as a whole.
Ukulele on the back, Moana and Hiroana will show the world that Polynesia, even if it is difficult to see on a map, does exist. It is beautiful, fragile and its culture still testifies of a strong link with nature. The two adventurers will meet the actors of the ecology and their inspiring solutions for the Polynesia of tomorrow. Positive citizen initiatives, environmental movements, countries that protect their ecosystems ... This other reality will be shared through social networks to inspire all those who will listen to these two young men who will speak hand on the heart, with the authenticity, simplicity and joy of life that characterize Polynesians.
Why do we leave ?
For us, privileged children of one of the last Eden on Earth, our Fenua, it is difficult to understand the consequences of global warming. In our country there are no melting glaciers, no massive deforestation ... Yet, the territories and island states are the most vulnerable to this situation. The problematic case of Kiribati challenges us; a nation is about to disappear due to rising water. Polynesia is not spared by this phenomenon, because we also count with small islands and atolls. We also face ocean pollution, temperature rise, coral bleaching, scarcity of some fishes, ... Are those the first signs of the end of a dream, the end of our Fenua?
Despite the gravity of the situation, we can not fall into the fatality and stop fighting to awaken consciences. Our obstinacy is the heart of the project and the reason we leave ! We believe that change is possible and that Polynesia has a grain of hope to bring. With a big optimism and an overflowing motivation, we have decided to leave our home, armed with our courage and souls of Polynesians in love with our native land.
The message : We are one — Hō'ē ana'e tātou
Hō'ē ana'e tātou is the Tahitian for "we are one". Our message means that all is interconnected. We must protect our magnificent nature; protecting it is protecting humanity. With our "mantra" we want to change the vision that humanity has of living beings. Like our ancestors, we are convinced that we can live in harmony with nature: women and men are part of nature and their development and spiritual growth must be done in the sense of the preservation and respect of our common home: the Earth.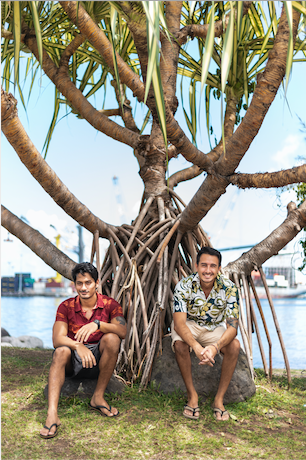 Discover our paradise and our culture !
We want to discover Polynesia to the world in a way never done before. With our ukuleles, songs, stories, pictures and videos, the world will admire our paradise and understand our love for the land.
We would also like to show how Polynesian people have lived for centuries in harmony with nature. The toponymy, the lagoon râhui, the terrestrial râhui, the importance of the defence of the land, the community spirit … and all the elements of our culture showing how Polynesians never needed great scientific knowledge to understand their environment and to love the land in its complexity.
The search for inspiring solutions
We are going to look for solutions, working all around the world, that could be applied here in Polynesia. We will share these initiatives via our web page and social networks to give hope and inspiration.
Our methodology
We will express ourselves through our online platforms about travel preparations, human portraits, unpublished sequences, travel stories ... in both paper and video / photographic format.
The entire project will be filmed with the aim of producing a documentary that will share the highlights of the expedition.
Polynesian way
The tour will be told with the simplicity, authenticity and humour characterizing Polynesians. We will be passionate about nature, worried about the future of our land but also endowed with an overflowing humour and joy, as we are. And this in order to popularize as much as possible our preservation message. Polynesia will feel recognized in us; the rest of the world will know and appreciate, we hope, our joy of living.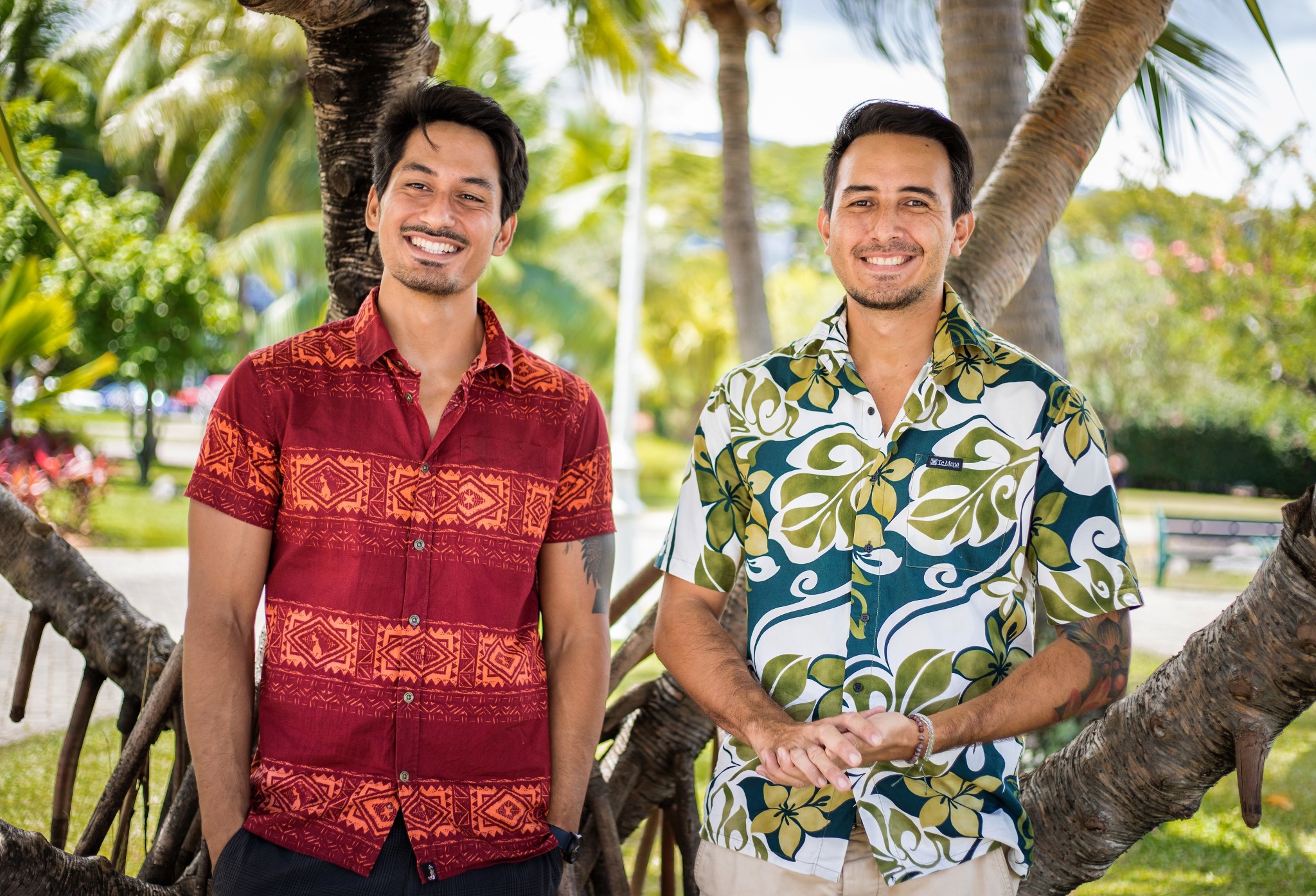 Travel itinerary
Who says world tour says itinerary. Here is our: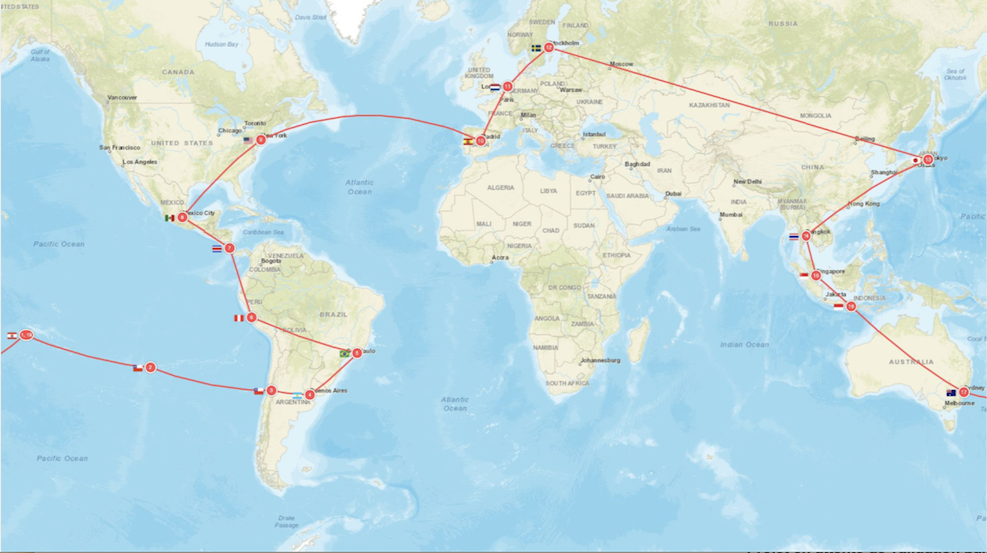 This map is a brief presentation of the countries we would like to visit. The selection of countries was made after studying the needs and weaknesses of French Polynesia in terms of environmental protection. For example, we will focus more on how an economy can get rid of fossil fuel dependency, or how we can build a reliable and sustainable public transportation system.
The itinerary may evolve according to the opportunities that will be presented to us, the advice we will receive, but especially the initiatives that we will locate.
Describe your project goal
This 6-8 month trip around the world requires a budget of 5 million CFP francs ($47000).
The funds received will be used to finance our trip. We would like to do as many countries as possible to push our message as far as possible. The money we will collect will be used to pay among other things : (budget estimate)
Level 1: The vaccines, 90,000 XPF (about $848) for all the vaccines.
Level 2: Visas, 90,000 XPF (about $848) for all visas.
Level 3: Equipment, 323,000 XPF (about $3043) dedicated to equipment such as backpacks, sleeping bags, tents …
Level 4: Transport, 1 050 000 XPF (about $9893), a base of 350 000 XPF (about $3297) per person for all trips.
Level 5: Accommodation and food: 3,150,000 XPF (about $29680) to cover the entire trip for all countries visited.
Far from luxury hotels, we will mainly stay with the locals while limiting our impact on the environment.
We will try to fly as little as possible.
A portion of the funds will also be used to purchase equipment for the production of weekly videos and the edition of a documentary.