Description
Here are a few lines our festival project in Moorea from 12 to 19 September 2018 which will take place at the Cultural Center Te Pu Atiti'a in Moorea.
The tattoo is an integral part of the Polynesian culture, we want to be able to exchange with all the different cultures who practice the same art.This is why we bring tattoo artists from around the world during a week of festival.
To welcome all this small world, we will build traditional fares, with the old, with local and natural materials.
Our objective
What we want is to bring together all the local and international delegations around the traditional Aboriginal tattoo. Everyone can discover the tattooing techniques of each other..
We want this authentic festival using our traditional fares and showcase the culture of all the countries that will be present..
We want a festival or reigns sharing and cultural exchange..
Finally, we want to honor the old tattoo artists who in the years 1985 relaunched this art that had been banned by the missionaries.
THE FESTIVAL
On the program we will have more than 120 renowned tattoo artists from different countries (Alaska, Mexico, Taiwan, Japan, Philippines, Borneo, Indonesia, Micronesia, Samoa, New Zealand, Hawaii, Easter Island, and of course our Fenua artists .)
When moving these different delegations there will also be singers, dancers, masseurs, sculptors, painters etc.
Three anthropologists specialized in different tattoo techniques will be present for seminars: Larz krutak, Sébastien Gaillot and Michael Koch.
A local craft, entertainment and music space is planned in the gardens of Aimeo Lodge, our partner.
We will also have, around the site, traditional sports and demonstrations of Va'a.
Why support us?
This festival will give an economic boost to our beautiful island of Moorea. Indeed, with more than 120 countries represented, the event will attract a large number of tourists and operate hotels, restaurants, taxis ...
Not to mention the international press attracted by the event. Internet, television, radio and paper journalists from all over the world will come and introduce Moorea.
Finally, as our event is based on Polynesian tradition and culture, we have to perpetuate this art with local constructions made exclusively of natural materials, built and built by us.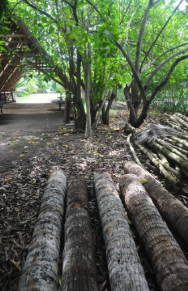 Our history
We are a young association whose vice president Laurent PUROTU and Gilles LOVISA (professional tattooer for more than 20 years in Moorea) have dreamed for many years to honor the precursors (Roonui, Chime and Purotu) of the revival of tattooing. French Polynesia in the 80s and revive this art through this festival.
Our team
Laurent Purotu Traditional and modern tattoo artist on moorea for more than 25 years Gille Lovisa Traditional and modern tattoo artist on moorea for more than 20 years Sam Huna Toere teacher and actor in local culture Michael Gourdikian and Raphael Ketterer Working in the world of tattooing and tattooing events for several years, in Metropolis and Polynesia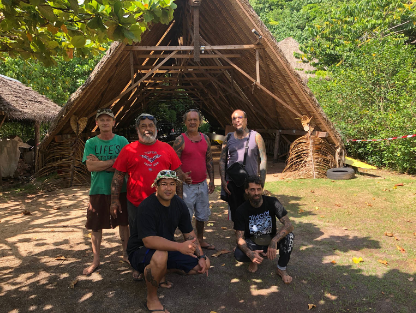 Thanks
We thank the local partners who helped us to start our project and also thank our future donors for the final realization of the festival.
Describe your project goal
DESCRIBE YOUR PROJECT GOAL
The funds collected will be used for the production of 3 Traditional Wines which will remain on the site for the different cultural associations of the island. For the big Fare we need 300 000 cfp
Each additional level will allow the good realization of the project!
For the two small Fares we need 100,000 cfp each.
The Event Security managed by Tahiti Vigiles, will help us for the well being of all the festival-goers and asks us 500 000 cfp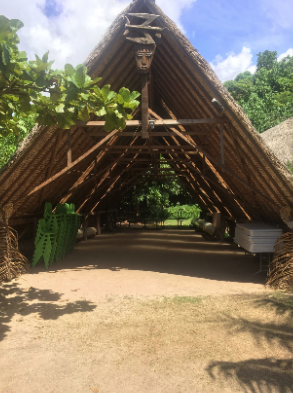 All the team of Mana Tatau Maohi Association thanks you in advance for your help!!